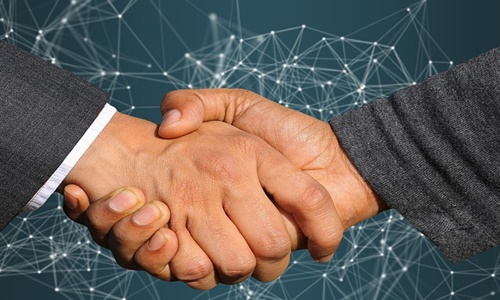 Irelands leading utility, ESB, has reportedly inked an agreement with world offshore wind frontrunner, Ørsted, for jointly developing an Irish offshore wind portfolio as part of a landmark deal.
The agreement was launched in Cork Chamber's Fitzgerald House by Simon Coveney TD, Minister for Enterprise, Trade & Employment, Head of UK and Ireland at Ørsted, Duncan Clark and ESB's Jim Dollard.
It has been reported that the agreement will make rsted a 50/50 partner in a pipeline of offshore wind energy projects off the Irish coast, emerging as the most ambitious collaboration in Ireland to date. The first of these offshore wind projects is anticipated to compete in ORESS 2.1, the upcoming Irish offshore wind auction.
Furthermore, the partnership has the capacity to deliver up to five GW of renewable energy and associated renewable hydrogen projects.
Ireland is well-positioned to develop strong and thriving offshore sector, which will help in decarbonizing the Irish power grid and enabling future renewable energy exports to Europe.
For the unversed, Ireland has a maritime area that is more than ten times larger than its mainland.
Reportedly, the partnership comprises a deal to look into potential uses for long-term renewable hydrogen produced by the projects. It intends to assist Ireland's transition to net-zero and help the Irish Government meet its 2030 goal of deploying 7 GW of offshore wind.
As per Executive Director for Generation & Trading at ESB, Jim Dollard, ESB, in recent years, has accumulated considerable expertise in offshore wind by collaborating with leading energy companies in largescale projects for building substantial offshore footprint across Great Britain and Ireland.
It is imperative to note that offshore wind in Ireland would be playing a key part in delivering the ESB Strategy, Driven to Make A Difference – Net Zero by 2040.
Source Credits: https://uk.news.yahoo.com/esb-rsted-enter-partnership-landmark-100724829.html?guccounter=1&guce_referrer=aHR0cHM6Ly93d3cuZ29vZ2xlLmNvbS8&guce_referrer_sig=AQAAACTTqbR77qf0AjuuYpWt0k7NFHzpEXcwAE2bR3pGxLRKL4D4a1waMC22RncZXoMPVBYMTcFCyMnUgYAmaTK_V-YFOddpZyGoKkYPJps9ZrpI8f50VzaPocBUD1s23Doxb1UDdAknPlYiFnU-4j7M2mmHILozMXZqCIh1KMI2eZpj