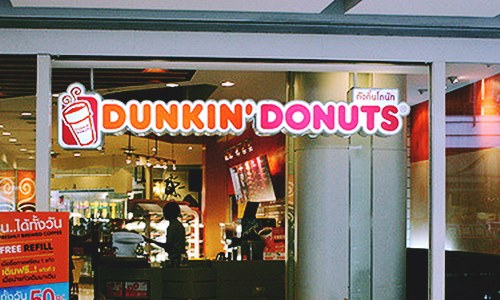 Americas favorite coffee and baked goods chain, Dunkin' Brands, has recently announced that it will be offering espresso-based beverages at its outlets nationwide. Reportedly, the move has come just about a month after Dunkin dropped 'Donuts' from its name, so as to diversify its menu.

According to Washington's Top News, Dunkin' says that its U.S. customers will now be able to buy improved cappuccinos, lattes, and other espresso-based cold and hot drinks at most of its 9,200 U.S. stores by the holiday season.

Confirming the move, Justin Drake, Senior Manager of Public Relations, Dunkin, said that the company aims to be Americas most loved beverage brand that offers great coffee on-the-go. Dunkin', despite their firm's name change, will continue to offer doughnuts, sandwiches, and other baked goods, and will look to find ways to make the brand more convenient and accessible to guests, Drake added.

Sources suggest that Dunkins newly improved espresso line will enable the firm to compete with coffee and food chain giants, Starbucks as well as McDonalds, that offer a wide range of espresso-based beverages.

Tony Weisman, Chief Marketing Officer of Dunkin' was quoted saying that Espresso based beverages are the fastest growing coffee categories among younger consumers, and with their coffee credentials the company believes it could have a tremendous opportunity to improve its credibility among espresso drinkers.

Sources close to the matter state that Dunkin, as a part of the move, plans to introduce cold beverage tap systems, a mobile ordering pickup area, and a more modern and inviting restaurant design.

As per reliable reports, in early 2018, Dunkin Brands had announced plans to invest $100 million in its Dunkin U.S. business.

Under the strategic plan, the company aimed to pour over half of this money for upgrading the restaurant equipment. Reportedly, the company claims that its franchises have made substantial investments in the its planned initiative since it has been announced.