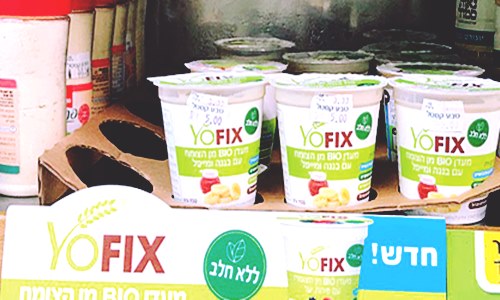 The Yofix yogurt alternative does not compromise on the taste, texture, and nutritional benefits of natural yogurt.
Yofix Probiotics Ltd, the Israeli pre & pro-biotic foods manufacturer that is known for its dairy & soy free yogurts, recently announced that it has launched its first dairy and soy-free yogurt alternative that will be available in three fruit flavors. The products are traditionally fermented and come in a clean-label formula consisting of only a few natural ingredients According to an official press release, the product is good for vegans and environmentally friendly with a low carbon footprint. The company especially underlined the fact that there is no product wastage and all the raw materials used in the production remain in the final product. For the record, yogurt has gained popularity among health-conscious consumers for its immune-boosting capabilities and as a beneficial probiotics source. But considering that the trend for flexitarian and veganism is on the rise among such consumers, plant-based dairy alternatives are becoming a more sought-after option. Health-conscious consumers are also conscious of the well-being of the environment that has created an increased demand for products with minimum carbon footprint. The Yofix yogurt alternative reportedly superior to other alternatives available in the market as it does not compromise on the taste, texture, and nutritional benefits of natural yogurt. It contains no added sugars, flavors, colors, or preservatives. Notably, Yofix yogurt was developed by agricultural mechanical engineer, Ronen Lavee, who is also the founder and CEO of Yofix. Lavee developed the Bio 5 formula which can create yogurt alternative without the need of sugars, preservatives or colors while not compromising on nutritional value of natural yogurt. A report from
FoodBev Media
claims Steve Grun, CEO of Yofix to have said that Yofix, after its global launch will be developing dairy substitutes for yogurt drinks, coffee creamers, milk, cream cheese and ice cream. All the substitutes will be plant based. He added that Yofix deploys proprietary manufacturing formulations and technology that requires minimum investment and is highly flexible. Remarkably, Yofix is the first company to join leading food-tech incubator, The Kitchen, which is also one of the chief seed investors in Israel. The Strauss Group Ltd is the main investor in Yofix.