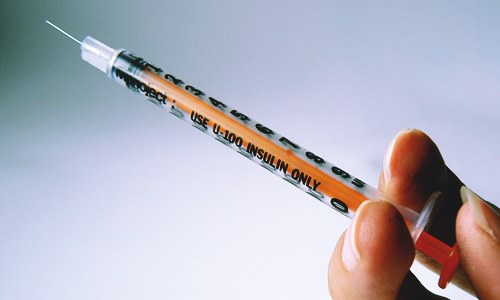 The injection works by mimicking the GLP-1 hormone that is usually produced in the gut and reduces blood glucose levels experienced post meal.
The EU licensing of the drug is based upon the results of the SUSTAIN clinical trial program.
Novo Nordisk UK (Novo Nordisk), a renowned British pharmaceutical company, has reportedly announced the launch of Ozempic®(semaglutide), its novel GLP-1 analogue injection specifically designed for treating type II diabetes, in the United Kingdom. Reports cite, the new once-a-week injection works by mimicking human glucagon-like peptide-1, also known as GLP-1 hormone, which is usually produced naturally in a human's gut and helps in reducing the blood glucose levels post a meal and also slows down the bloodstream from absorbing glucose. According to a report by
PharmaTimes
, the medication should be utilized alongside adequate diet & exercise, as a monotherapy where metformin is considered to be inappropriate because of contraindications or intolerance or in addition to some other medicinal products used to treat diabetes, when the type 2 diabetes is being controlled insufficiently. Cardiovascular disease is reportedly the top cause of disability and deaths in individuals suffering from type 2 diabetes across the world. Diabetes UK, a British healthcare professional, patient & research charity, recently claimed that individuals suffering from type 2 diabetes are twice more likely than individuals without the conditions to lose their lives prematurely through avoidable complications. The Professor of Medicine (Diabetes) at Swansea University, Professor Steve Bain stated that it is well known that individuals with uncontrolled type 2 diabetes are greatly at risk from serious complications. Prof. Bain stated that drugs such as Ozempic®, that need to be used just once a week, is a crucial step in reducing those risks controlling the condition. According to reports, the EU licensing of the drug is based upon the results of the SUSTAIN clinical trial program. One semaglutide pen would contain 4 weekly doses and costs approximately £73.25.